Imagine a single herb that whispers wellness to your hair, sings radiance to your skin, and breathes vitality into your lungs. That's the magic of rosemary. Good for hair, and so many other things, a natural gift that keeps on giving.

Organic Rosemary Verbenone Essential Oil is one of the precious "Oils of Protection." It has been used throughout time to help protect and strengthen the immune and integumentary systems. The Greeks, Romans, Egyptians, and Hebrews all considered and valued Rosemary a sacred plant, representing purification, and healing. Throughout history Rosemary has been kept in and around homes as a shield of protection and used in cooking, medicine, ritual and skincare.
Imagine a potion that not only enhances your natural beauty but also fortifies your life force energy. That's Rosemary Verbenone (Rosmarinus Officinalis) for you, a unique essential oil boasting the gentle terpene, verbenone. Its gentleness makes this variant of rosemary oil the choice of connoisseurs for specialized applications in rejuvenating skin and hair care, and for bolstering respiratory health.
From stimulating hair growth to soothing headaches, Rosemary Verbenone Essential Oil has been a cherished ally. Its impressive profile brimming with antimicrobial, antiseptic, astringent, antioxidant, and tonic properties, makes it a favored addition to soaps, face washes, masks, toners, and creams. Harsh chemicals for conditions like psoriasis and eczema? Not when you have this traditional, gentle solution at hand. Infusing your beauty regimen with Rosemary Verbenone Essential Oil could revitalize your skin, reawaken your hair and scalp, and even find its way into our acclaimed Miracle Botanicals Hair Tonic.
Beyond beauty, the benefits of this essential oil extend to physical wellness too. Imagine a massage with
Rosemary Verbenone Essential Oil diluted in a lavish carrier oil. Feel your body detoxify, your digestion improve, and your circulation stimulate as the oil is absorbed, restoring your body to its optimal function.
But the magic of Rosemary Verbenone Essential Oil doesn't stop there. Diffuse it at home and transform your space into a sanctuary of well-being. It's an aromatic ally against bronchial conditions, colds, congested sinuses, and deep coughs. Need a memory boost or a focus enhancer? This essential oil has got you covered. Its deodorizing and uplifting effects create an ambiance of clarity, protection, and ease.
Keep scrolling. Below we share beautiful recipes for incorporating Rosemary Verbenone Essential Oil into your daily life!
Rosemary ct. Verbenone - Organic - South Africa (Rosmarinus Officinalis)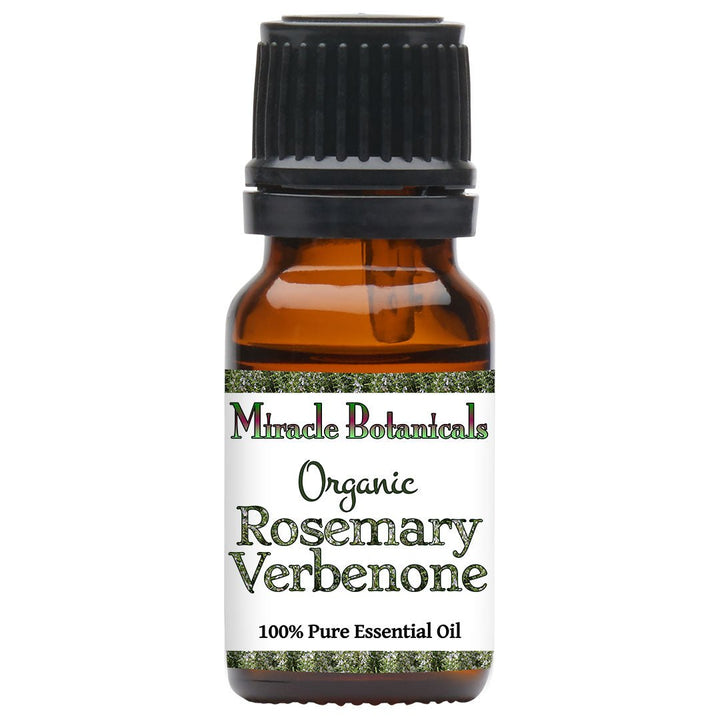 $11.97
  Botanical Name: Rosmarinus Officinalis, chemotype: Verbenone Plant Part: Leaves Method of Extraction: Steam Distilled Country of Origin: South Africa Color/Consistency: Clear/Pale Yellow Tinge with Thin Consistency Aroma: Spicy, Fresh, and Stimulating Perfumery Note: Middle Main Chemical Components: alpha-Pinene (19.49%),… read more
Recipes Using Essential Oils of Rosemary: Good for Hair, Skin & Lungs
Crown Protection Dry Shampoo
Make the hair and scalp feel fresh between washes with this DIY Dry Shampoo.
Mix all ingredients in a small shaker bottle (you could up-cycle an old jar for this) and sprinkle on roots before styling. This recipe is great for all hair types. For darker hair, just add a little cocoa powder to match your roots.
Restorative Rosemary Hair and Face Mask
Mix ingredients in a small bowl and then apply over hair, gently massaging into scalp, twist up and cover, then relax for 30 minutes. Any extras can be applied to face by gently dabbing all over, being careful to avoid eyes. Rinse with warm water and style as usual.
A wide array of nutrients and antioxidants are in this mask, helping to nourish hair and scalp and even out skin tone. Good for all skin types.
Starting to feel a tickle of a cough? Diffuse this blend to help ease congestion, open airways, and breathe easier.
Add to a diffuser and breathe in.
Rosemary Verbenone is a gentle yet effective essential oil, used through out history as a protective shield for home and health. If you feel that some extra protection or revitalization would be beneficial, Rosemary Verbenone may be a great oil for you to add to your collection!