Finding new ways to connect and keep the intimacy alive in our personal relationships is a very natural desire. Sometimes the easiest way to find these connections and sparks is to come back to a place of play and fun through our senses of smell and touch.
Read on for 4 fun ways to intimately connect with your partner, and 1 with yourself, using touch and aromatherapy with Miracle Botanicals Essential Oil's Sexxy Blend.
Keep the LOVE GOING STRONG!

*And feel free to substitute your favorite, stimulating essential oils in place of Sexxy Blend.
SEXXY Essential Oil Blend - 100% Pure Essential Oil Blend for Grounded Sensuality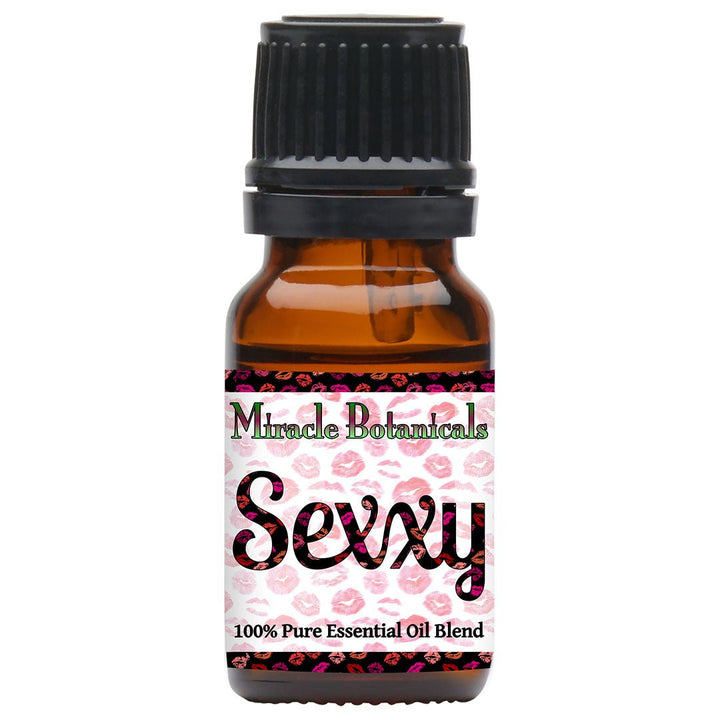 $17.97
Ingredients: Hawaiian Sandalwood, Jasmine 10% Dilute in Meadowfoam, Bulgarian Rose Otto  Aroma: Warm, Sweet, Woody, Floral Perfumery Note: Middle Color/Consistency: Yellow Color with Medium Consistency and Fatty Particulates  Can Also Be Made Into a Body Oil by Adding it to One of… read more
Set the stage for a fun playful date night with your partner, Sexxy Blend Essential Oil, and a playful game of Twister!
How to
To ensure it's a night for lovin', diffuse Sexxy Blend, put on your favorite slow jams, and enjoy some silly, sassy, sexy fun with your romantic partner. Every time you "mess up", remove an article of clothing. Be ready to laugh and flirt and love the night away!
Bringing Sexxy Back Massage Oil
You do not need to be a massage therapist to provide a loving and intimate massage for your sweetheart.
Massage the shoulders and neck of your lover using Sexxy Blend diluted with a carrier oil. Gently follow the curves of your partner's body starting from the ear to their fingers tips. Then gently caress down the length of the spine, down to the low back and hips, sweeping over the tush, the back of the legs; and down to their toes.
This synergistic application of Sandalwood, Jasmine and Rose from the Sexxy Blend, makes for a stimulating and sensual massage, that will leave your beloved asking for more.
Massage Oil Recipe
Mix 9 drops of Sexxy Blend Essential Oil in a 1 oz of a carrier oil (like Miracle Botanicals Organic Virgin Hazelnut Oil.)
When was the last time you and your lover passionately kissed? If you don't recall, then it's time to inject your relationship with some youthful intimacy and a Sexxy Kissing Challenge!
When you have some alone time with your honey, and you want to get a little sweetness, dab your Sexxy Blend perfume behind your ears, over your heart and abdomen and challenge them to a friendly kissing game like the following:
Kissing Marathon: put on some music and just go for it, see how long can you go! More than 1 song, 3 songs…10 songs? Enjoy reconnecting to your partner in an honest and intimate way.
Kissing Quota: Clear up any romantic deficits with a kissing quota. This is a daily challenge. Partners agree to kiss 10 or more times a day for 8 days. If 8 days is easy, then go for 21 days and start a new loving and intimate practice to keep your relationship connected and passionate!
Using a roller bottle, add Sexxy Blend Essential Oil until desired strength of aroma is achieved when blended with your favorite carrier oil (Meadowfoam Seed Oil is recommended for the purest fragrance of the Sexxy Blends' Hawaiian Sandalwood, Jasmine, and Rose Otto Essential Oils.)
Apply your personal Sexxy perfume blend whenever you want to give the subtle (or not so subtle) hint that you'd like to get a little closer with your loved one.
Don't have a partner? Or just want something for yourself? Try this Self-Love Affirming Massage to boost your confidence, give your skin a healthy glow, and uplift your spirit in ways that help you SHINE! LOVE YOURSELF for the diving being that you are!
Instructions
Start by mixing Sexxy Blend Essential Oil with your favorite carrier oil in your hands, then rub hands together over your heart, warming and mixing the oils together. Close your eyes, then open your hands and take a deep breath in. As you exhale, release your hands out to your sides and say "I AM LOVE".
Then using touching and the affirmation of "I LOVE YOU," slowly work over every major part of your body, starting at your feet and working up to the top of your head, as you touch each area, gently massage and caress yourself and say "I love you". Take a deep breath in, send love and breath to each area, with every touch, and then with every exhale release anything that does serve your highest good.
After you've repeated this all over your body and finishing at the top of your head, take a deep breath in and bring your heads back together at your heart center, exhale and say one last "I LOVE YOU" as loud as it serves you on this day!
Aho!
Love and intimacy don't have to be complicated. Sometimes the simplest methods of connection are really at your fingertips (and nose tips!). If you feel called to embrace a little more play and love in your life, slide on over to MiracleBotanicals.com to get your Sexxy Blend Essential Oil and see what sparks for your next date night or self-care night!
By Lori Harrison