Hinoki Essential Oil comes from the Hinoki cypress tree (Chamaecyparis Obtusa), which has been traditionally used in Japan for many years to build various structures, most notably temples, shrines, and castles. In the Japanese heritage, Hinoki has been cultivated and honored as one of the most valuable and beautiful trees in the forest.
Hinoki Essential Oil offers a woodsy aroma, with hints of spice and lemon. Therapeutically, this oil is often used for its grounding effect as well as to help relieve stress, anxiety, and tension. The medicinal benefits are many, from boosting immunity to cleansing wounds, reducing inflammation, aiding with muscle and joint pain, acting as a decongestant, and even encouraging hair growth.
Hinoki Essential Oil offers a myriad of valuable benefits, just as the wood from which it's derived!
Hinoki Essential Oil (Chamaecyparis Obtusa)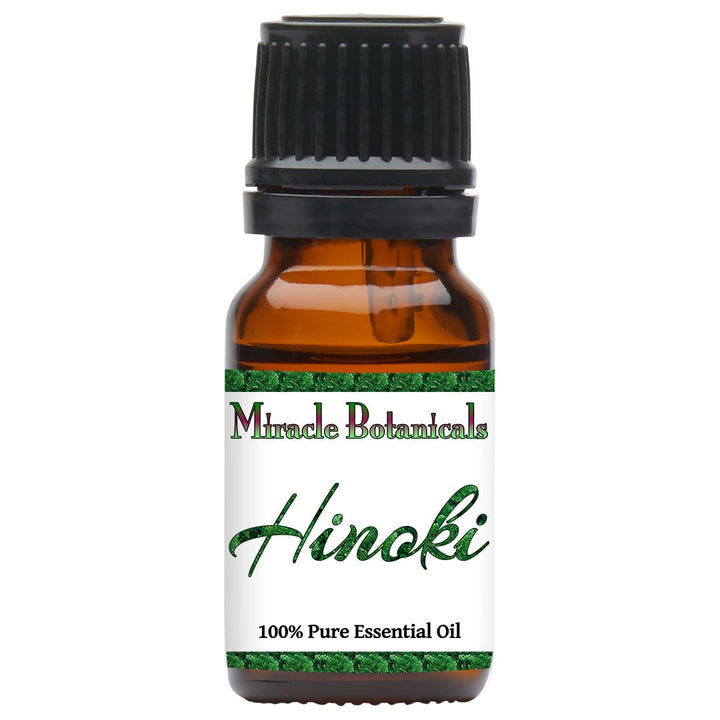 $11.97
  Botanical Name: Chamaecyparis Obtusa Plant Part: Wood Method of Extraction: Steam Distillation Country of Origin: Middle Honshu, Japan Color/Consistency: Clear with Straw Hue and Thin Consistency Aroma: Woody, Spicy, Lemony Perfumery Note: Top Main Chemical Components: alpha-Pinene (26.27%), tau-Muurolol… read more
Hinoki Essential Oil from Miracle Botanicals is sourced directly from a distillery in the quaint and beautiful village of Shinjo, Japan, in the northern part of Okayama prefecture. Okayama is the largest producer of Hinoki wood in Japan and is known around the world for its standard in quality. Additionally, our Hinoki Essential Oil supplier is known for its practices in contributing to sustainability, which has become a concern around the production, harvest, and use of Hinoki and all of its products.
Oh, and did we mention that Hinoki wood is now commonly used to build exquisite bathtubs? It's true! They say that when the tub is filled with hot water, that signature woodsy, spicy, lemony aroma fills the air. Ahhh… isn't it relaxing to daydream about it?
Shinrin-yoku is the Japanese practice of forest bathing. Forest Bathing is simply taking a walk surrounded by trees without a cell phone, camera or any other technologies. This reduces the modern-day "stress state" or" technostress." Hinoki Forests are commonly found in Japan and forest bathing is done to reconnect to inner happiness and intuition. Extensive Research on forest bathing has taken place in Japan and has shown evidence of something remarkable!
Studies have shown that when practicing Shinrin-yoku in Hinoki Forrests, it not only helps reduce stress but can also strengthen the entire nervous system, immune system, respiratory system, and more! A big factor in this has to do with the terpenes in the forest air that is inhaled, similar to aromatherapy.
Even if you don't have a fancy bathtub made of Hinoki wood or a Hinoki forest to bath in, you can still enjoy a relaxing, refreshing, steamy Hinoki experience by placing a few drops in your regular bath, a foot bath, or as a shower body oil. Try it out and let us know what you think!
Find various ways to use Hinoki Essential Oil with the recipes below!
Make this serum for a natural approach to hair growth treatments!
Mix the oils together, and then apply the blend to your scalp and to the roots of your hair. Allow it to sit for a half-hour and then wash it out with your usual shampoo.
Each of these oils is known to reduce anxiety and promote positive emotions. Breathe in this blend for a calming effect on the mind.
Use them in equal parts with your diffuser, or mix and match them as you like.
When health issues are preventing you from breathing easy, try inhaling this solution to encourage decongestion and clear airways.
Simply diffuse an equal number of drops of each essential oil in your diffuser.
If you are feeling called to have Hinoki Essential Oil in your life, get ready to enjoy the multitude of physical, emotional, and mental benefits this Japanese oil provides!