Clove is the aromatic flower bud of the Syzygium aromaticum tree, native to Indonesia. Clove bud is dried and commonly used as a spice to add flavor and aroma to several foods and hot beverages. Clove Essential Oil benefits include bringing patience and persistence, cleansing the mouth, and brightening the room. It also makes a powerful cleaning agent.
At Miracle Botanicals, we offer two distillations of clove bud essential oil. One is called Clove Bud Super. It's steam distilled and only includes intact buds. There are no stems used in the distillation of this oil. Our Clove Bud Super is better for waterless diffusers because it's more astringent.
Our second clove essential oil is Co2 Extracted, which makes it a gentler alternative because it retains a small amount of the plant's viscosity. This is the extraction I would select for cleansing the mouth and for numbing painful gums.
To take advantage of clove bud essential oil benefits, we recommend trying both of them to see which one resonates the most for you.
Clove Bud Essential Oil (Super) (Eugenia Caryophyllata)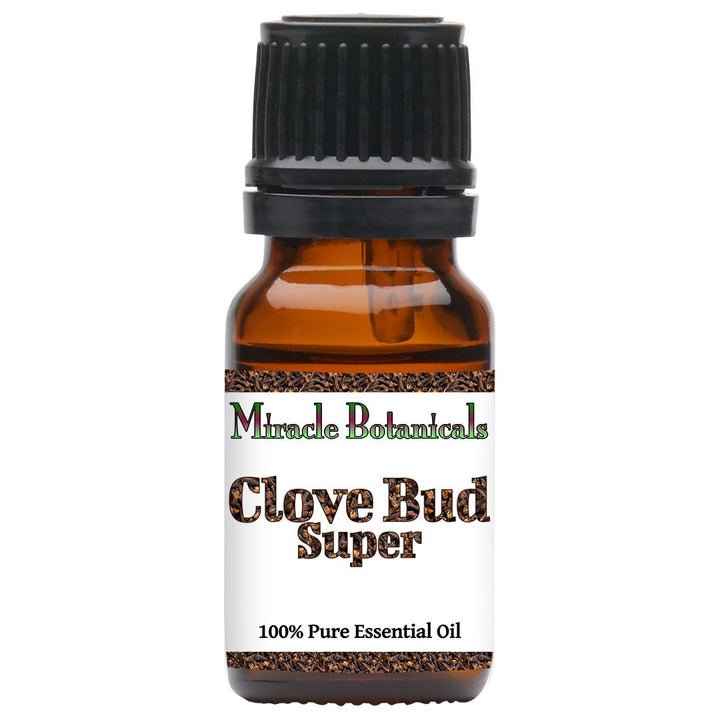 $9.97

  Botanical Name: Eugenia Caryophyllata Plant Part: Buds Method of Extraction: Steam Distilled Country of Origin: Madagascar Color/Consistency: Clear Pale Yellow with Thin Consistency Aroma: Warm, Spicy, Woody, Pepper, and Candy-like Perfumery Note: Middle Main Chemical Components: Eugenol (79.78%), Eugenyl… read more
Clove Essential Oil Benefits
Although clove trees start to flower in 6 years, it takes about 20 years to produce a full crop of clove buds, which is why this fragrance is associated with patience and persistence as well as helping to keep us rooted. Mixed with a carrier oil and applied to the wrists and neck helps transfer these qualities to your aura, and brings about a calming effect.
benefits oral hygiene and can be used as a breath freshener. Gargling the oil with a mixture of water can repel stinky breath and cleanse the mouth. After a rinse, I feel fresh, poised, calm, and ready to work miracles.
Clove essential oil is also well-known in aromatherapy for the effects of numbing inflamed gums, resolving oral infections, and helping with other mouth issues. Dab the top of the bottle with your finger, and then apply the oil to the area of the mouth that's painful or inflamed. If the taste is too strong or if the patient is a child, the oil can be diluted in our hazelnut carrier oil to 5% for babies and up to 50% for children and sensitive adults.
Diffuse this aromatic oil along with other warming spice oils to brighten any room. Clove is a popular scent in the Fall and Winter seasons, but can be blended and used all year round! Great for entertaining, clove essential oil is a delightful scent that captures the senses and invites peaceful, uplifting conversation.
Because of its antibacterial and anti-fungal properties, Clove Bud Essential Oil makes a wonderful natural alternative to chemical cleaners. Adding Clove Bud Essential Oil to your favorite cleaning blend or solution will create a mixture powerful enough to eliminate bacteria and permeate the room with its refreshing and inviting aroma.
Clove Bud Essential Oil is a practical addition to any essential oil collection. Check out the following recipes to learn how you can incorporate more of this exquisite oil into your life!
Bad breath can scare people away and make us feel anxious. Clear away bacteria with this recipe.
Mix, sip, swish, gargle and spit! Clove Bud can also help resolve tooth pain!
A popular scent in the Fall and Winter months, but the warming aroma can be enjoyed all year round.
Add oils to a diffuser and enjoy! Feel free to mix and match to find your perfect essence.
"Four Burglars" Natural Cleaner
A popular blend among aromatherapists, commonly known as "thieves", this cleaner is a powerful mix of natural defenders.
Blend oils and water. Pour into a spray bottle and use on surfaces to disinfect.