Each and every plant has its own, distinct characteristics. Lavender is known for tranquility, Jasmine for sensuality, and Mandarin for optimism, but when it comes to wisdom, there is none better than Sage. As we, too, become older and wiser, sage essential oil can be used to support our well-being in a multitude of ways, including taking care of our skin as it matures.
*** Always dilute essential oils before applying them for skincare purposes! We recommend diluting to 2-3% for facial application...that's 12-18 drops per ounce of carrier oil.
When applying sage essential oil over larger areas of the body, such as for cellulite, 5-10% dilution is recommended...that's 30-60 drops per ounce of carrier oil.
Wisdom and age are qualities to be admired. Years of smiles can result in laugh lines and crow's feet, and living through cycles of many seasons can result in weathered features. These certainly are characteristics of a life well-lived! But if you are looking to invite suppleness and beauty, Organic Sage Essential Oil makes an excellent skincare companion. From fine lines and wrinkles, acne, scars, stretch marks, and cellulite...these are things that can get better with sage.
A favorite among aromatherapists for its anti-aging benefits, Organic Sage Essential Oil can't eliminate your hard-earned wrinkles, but it may help soften them by bringing much-needed hydration, antioxidants, and other nutrients to the skin, all of which are essential for wrinkle repair and prevention.
Organic Sage Oil is also an abundant carrier of antiseptic and antibacterial compounds, so whether you experience symptoms of hormonal acne (Hello menstruation and menopause!) or you need a remedy for fresh facial abrasions, this oil just might be the perfect remedy.
And how about stretch marks? Or cellulite? Organic Sage Essential Oil is known to help with those, too! Often used to promote circulation, many use this plant medicine to improve circulation and bring life to the derma, thus tempering skin irregularities and encouraging positive regrowth. (Again, hydration is another key component here as well.)

Wondering how you can use Organic Sage Essential Oil in your skincare routine? Wonder no more! Check out the recipes below…
Sage Essential Oil - Organic (Salvia Officinalis)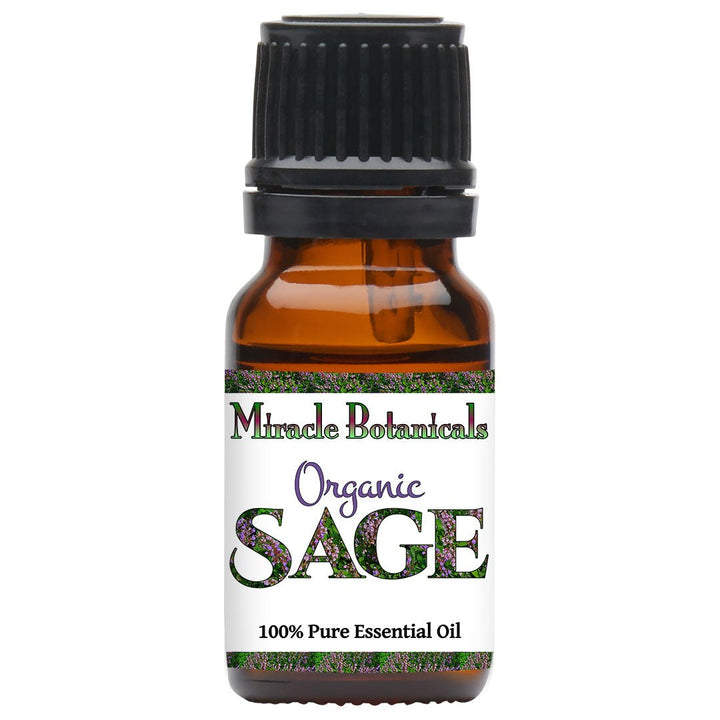 $11.97
Botanical Name: Salvia Officinalis Plant Part: Leaves Method of Extraction: Steam Distilled Country of Origin: Albania Color/Consistency: Pale Yellow Or Green Color With Thin Consistency Aroma: Deep, Powerful, Spicy, Peppery, Fresh Perfumery Note: Middle Main Chemical Components: cis-Thujone (35.4%), Camphre (15.3%),… read more
Wash face and pat dry. Apply a facial toner like Witch Hazel. Place 3 pumps of Rosehip Seed Essential oil into the palm of your hand. Add 2 drops of each remaining oil. Blend by rubbing the palms together and then apply to the face. Show extra care and intention by massaging areas asking for extra love. Repeat routine twice a day.
You may also like to try our Super Custom Anti-Aging blend.
Place ingredients in a small dish and mix together to form a paste. If it is too thick, add more Hemp Seed Oil. If it is too thin, add more baking soda. Extract sebum if needed. Place mixture on problem area and let sit for 5-10 minutes. Dab with a warm washcloth to remove. Pay dry.
Stretch Mark or Cellulite Serum
Blend all ingredients together. Mix and match as desired. Apply liberally to stretch marks or cellulite daily. Combine with dry brushing for enhanced exfoliation and circulation.
Signs of aging are nothing to be ashamed of, in fact, they can be celebrated! They're like merit badges saying, "Good job, you've made it this far!" But good skin health is something that anyone of any age can benefit from, and good health all around is a true sign of sage wisdom.
If you're ready to welcome Organic Sage Essential Oil into your oily apothecary, find it at Miracle Botanicals!